Why Do a Master's in the UK after Studying Abroad Before
The Value of an Education Abroad
I am sure that a number of you have thought about studying abroad during your undergraduate experience, and I am more than positive many of you have made that happen! Think back to times that you most cherished while abroad, the times that most challenged you abroad, and the people or places that made the experience worthwhile. Don't you yearn for another moment to be back where you were, even if it is just for five minutes? I sure did, and that was reason enough for me to pack my bags and move to the UK after my undergraduate career concluded.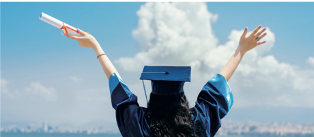 Why a Master's in the UK?
The UK is home to a number of incredible institutions and a hub for international students wanting to continue their education. Each institution has a variety of specific master's courses that might just be the perfect fit for you. A wonderful benefit includes saving time as most master's courses are one year long, as opposed to programs elsewhere.
Living abroad as an undergraduate student is a highly unique and different experience than living abroad as a postgraduate student, yet you will continue to grow personally by immersing yourself in an environment probably quite different from where you are used to.
On top of personal growth and immersion, you will be able to set yourself apart in the professional world by providing perspective on your international experience. This is an excellent potential way of creating personal and professional connections with international students and academics. Widening connections might be one of the most important skills to enhance as a student living abroad.
If you are someone who has previously studied abroad, then this might be the perfect opportunity for you to gain a fresh experience in an entirely different culture! There is plenty of evidence suggesting you will be able to find yourself and realize your values better when you are out of your comfort and the places you are used to being around. What are you waiting for?
Why not further your education while living life abroad again?! If you are looking to experience a new culture while continuing your education and meeting students from all across the globe, this might be your next big move.

Questions?!
If there are questions regarding which schools might be best and why pursuing a master's degree across the pond is beneficial, feel free to check out the links below and discuss your future abroad with an ATP advisor!
Published Originally: December March 25, 2020
by Ria Shome, Across the Pond Student Ambassador
Studying at: Royal Holloway, University of London