What to Expect During Freshers' Week
Oct 17, 2018 3:23:06 PM
While preparing to depart for the UK, you're likely to come across many references to "Freshers' Week", whether it be in communications from your university, student's union, or soon-to-be fellow students. Some of you may be familiar with Freshers' already, but for those who aren't, this introductory week is a chance for you to settle in and get to know your chosen university before lectures start. If you've studied at university in the USA, Freshers' Week is similar to what you would have experienced at a freshman orientation; you will have a chance get to know the academic staff and your program of study, as well as review university procedures and systems that are in place to help you succeed. Here at the University of Southampton (where I've chosen to study for my bachelor's degree!), a timetable was distributed shortly before my arrival with dates of the welcome talks for the university as well as my individual course.
Freshers' isn't just about academics though – it's also a great chance to get to know your new flatmates, coursemates, and fellow students. Going out dancing is usually popular amongst students, but don't worry if clubbing isn't your idea of fun! Most universities will host a variety of events during the week to cater to everyone.
At Southampton, our student's union put on events each night at my university such as club takeovers, a silent disco, roller disco, film screenings, retro gaming, and lots of other activities. Sometimes, there are dedicated events for international students; at my university there was a picnic where students could bring a food or drink from their home country for everyone to try as well as a special reception for students from the Americas and the Caribbean. Also, some students from all three years of my course decided to get together at the weekly karaoke night at the university pub, so I was able to tag along to that as well! It was a great chance to get to know my coursemates, who I will certainly be spending a lot of time with over the next three years.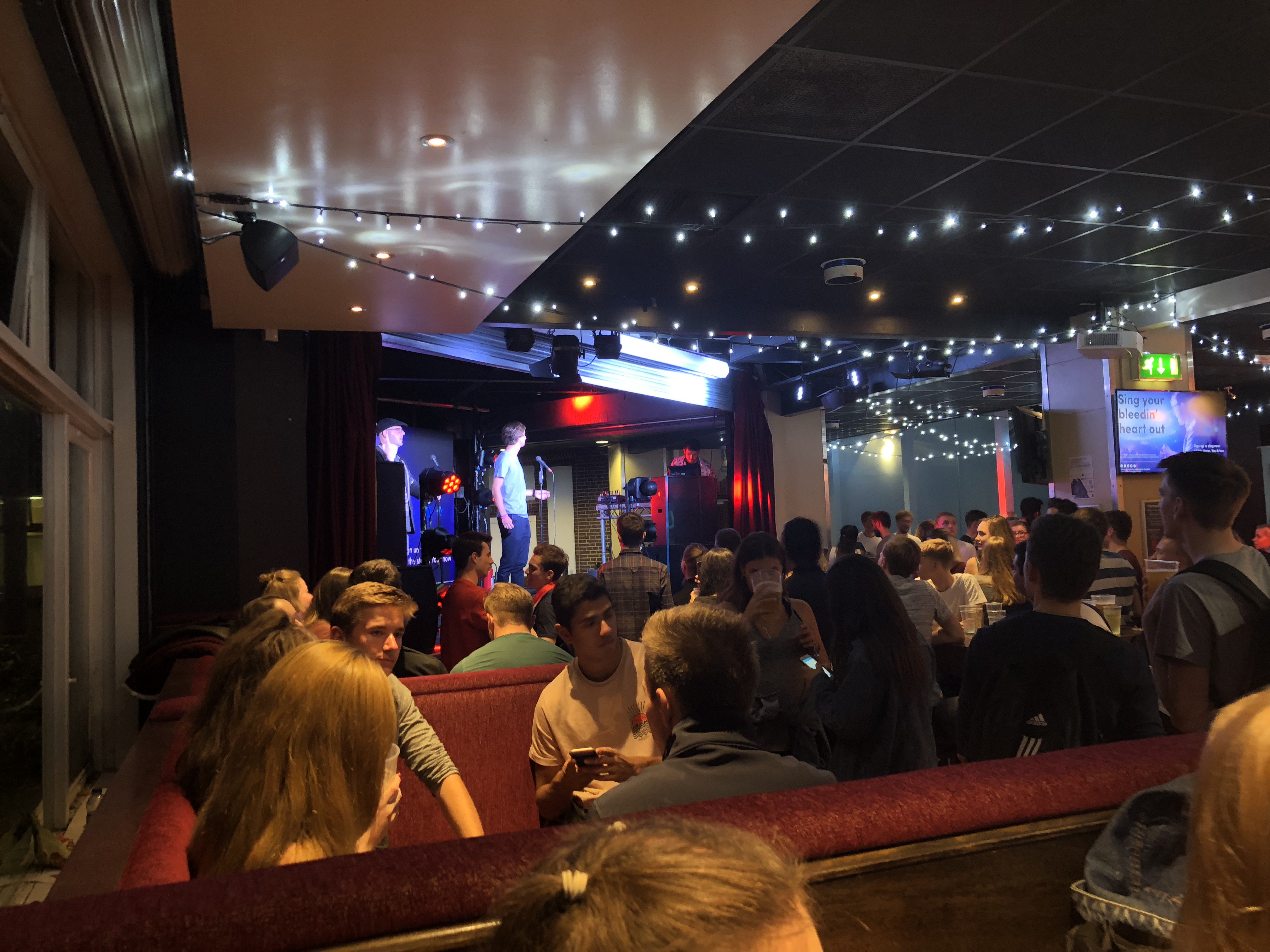 *Karaoke night at the university pub with my coursemates
From my experience, there's no better time than Freshers' to get involved in the societies and sports that your university has on offer. At my university, we have over 200 societies for students to choose from, so the student's union dedicated an entire day during Freshers' Week (called Bunfight) to show them off! I definitely recommend that you check out any societies you may be interested in, or you could even consider trying something new. Many societies, including those with paid memberships, will offer introductory or 'taster' sessions so you can get a feel for what the society is about before you commit to anything. I decided to go to a taster session for the Trampolining Society (even though I've only been on a trampoline once in my life). I had a blast and I'm certainly considering joining!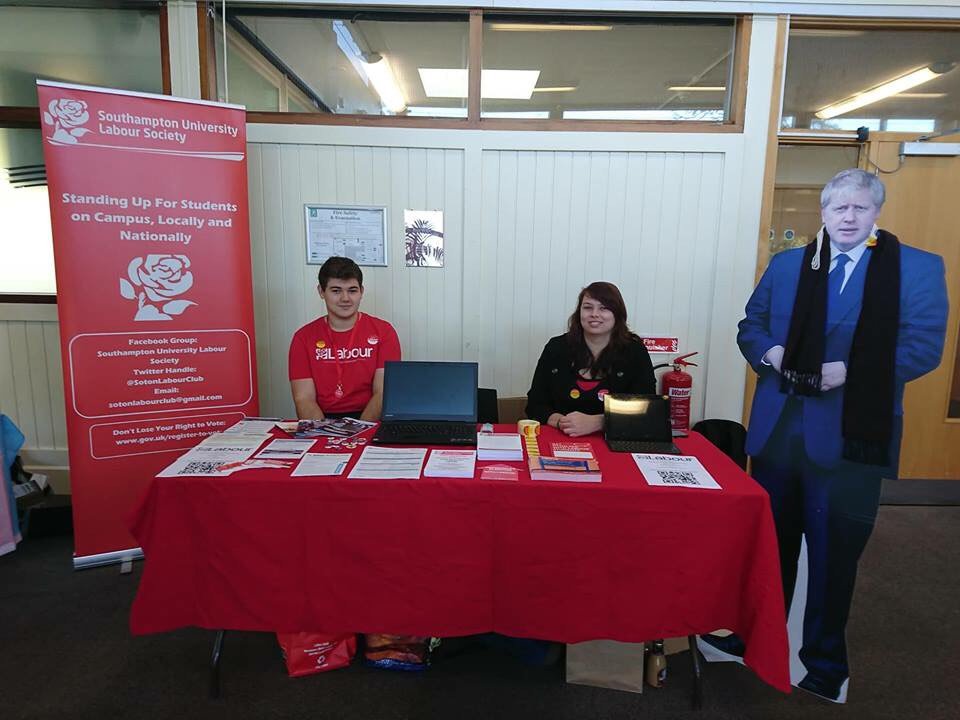 *I helped to recruit new members at Bunfight for the Labour Society!
Arguably, one of the best parts of Freshers' Week is all the free and cheap stuff you can accumulate throughout the week. Many universities will invite businesses to campus that are popular amongst students, and many will offer coupons or products for signing up to their emails or connecting with them on social media. I managed to snag two succulents, lots of coupons and pens, a water bottle, and even a free 'Feed the Flat' meal from Domino's! We also had a poster sale on at the university throughout the entire week; I managed to pick up a full-size wall poster for only £4!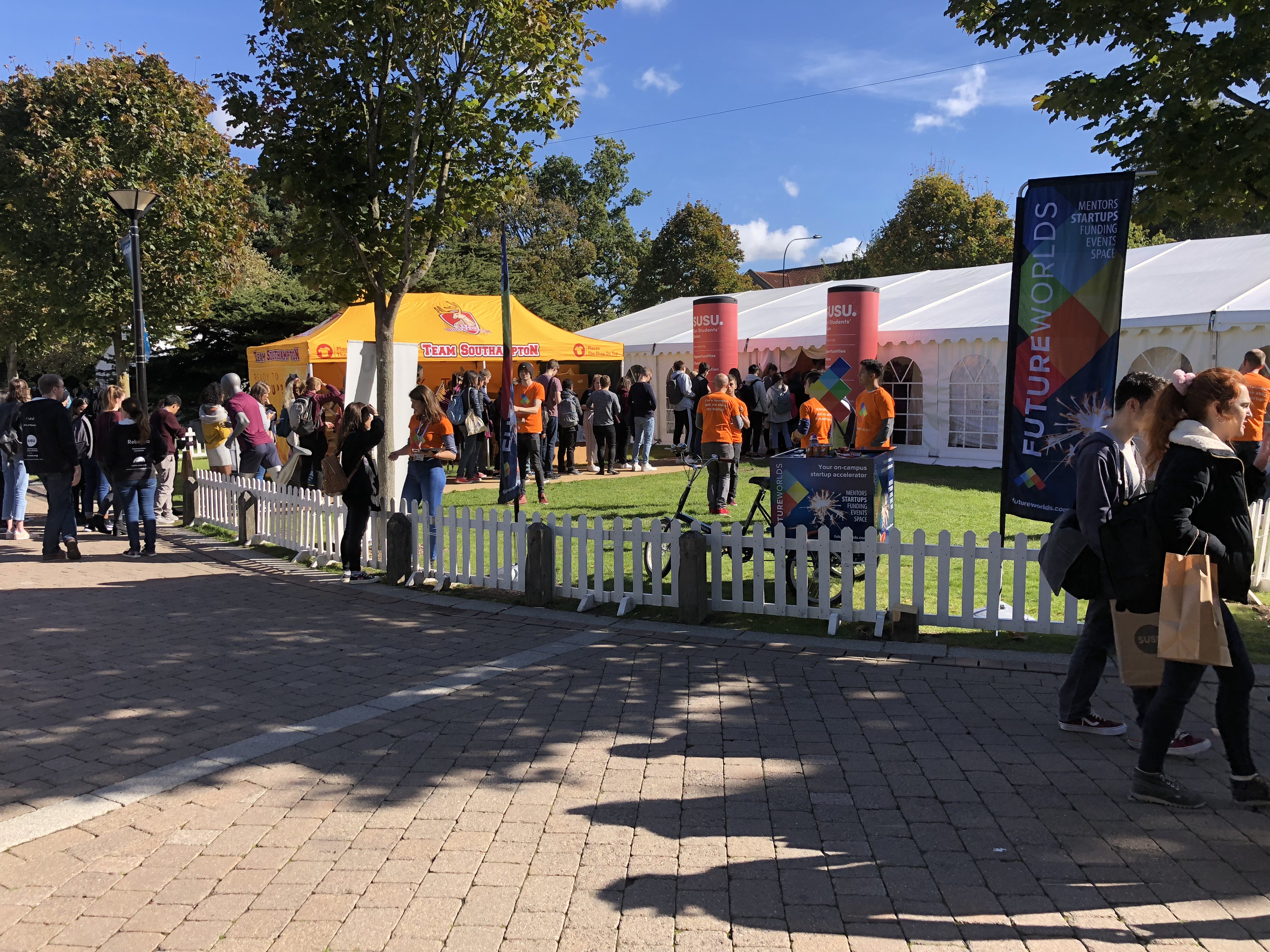 *Lots of students attend Freshers' events – even second and third years!
When I first got on the plane to head to the UK, I didn't really know what to expect from Freshers' Week and I was a bit scared. If you were feeling the same way as I did, I hope that this blog helped to clear up any questions you may have had!
Studying abroad can be an exciting and life-changing experience. If you would like to find out more about studying in the UK, please contact us using the form opposite…