Tips And Tricks For Living Off-Campus Whilst Studying In The UK
Jun 6, 2015 11:30:00 AM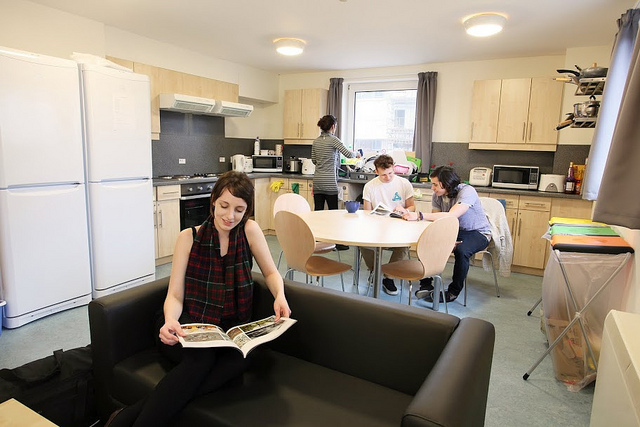 When I left California to get my master's degree at the University of York, I brought my wife Katrina along with me.
Although the university offered couples' accommodation at the postgraduate college, we decided it would make the most sense to find our own apartment off-campus.
I figured that Katrina was already taking a year out of her life to accompany me on my journey studying in the UK, so the least I could do was to ease the transition by maintaining the level of comfort we enjoyed back home.
Fortunately, everything went pretty smoothly for us. We found a nice flat (this is what British people call an apartment) in a quiet neighborhood not too far from campus, and I think we had a better experience overall than some of our friends who wound up living in university accommodation.
As a result, I'm always being asked to give advice about finding private accommodation in the UK – so I've put together a short list of tips and tricks for those of you who may be considering living off-campus.
First, a word of warning
Before we get started, I want to make it clear that private accommodation is not the best option for most people. As you will learn, it can be much more stressful and expensive than staying in university housing (which, in nearly all cases, is fully guaranteed to students for their first year of study).
It can also be a very lonely experience if you're doing it all by yourself.
For some people, though, private housing is the only way to go. In addition to those of you traveling with family, some of you may have guidance or support animals who can't live on campus, or you may have health issues that make dorm life uncomfortable.
If you're in a situation like this, and you're prepared to take on the additional workload and cost of sorting out your own housing, this guide is for you.
#1 – When to start looking
You absolutely should not try to find private accommodation online while you are still in your home country. There are plenty of people looking for homes in the UK, so landlords and letting agents simply have no incentive to rent property to a foreigner whom they have never met.
Anyone offering to rent you a property from overseas is virtually guaranteed to be a scammer, so you should avoid this type of situation entirely. 
In most cases, your student visa will permit you to enter the country 30 days prior to the start of your program. This means you will need to enter the UK as early as possible (though not earlier than your visa permits, of course), and put yourself up in a hotel or hostel.
If you've got friends or family in the UK who will let you stay with them while you house-hunt, even better! Plan to see as many properties as possible to ensure that you are able to move in somewhere before your course starts.
When Katrina and I moved to York, we checked into the cheapest hostel we could find. It was nice enough, but it was cramped – we slept on bunk beds along with 10 other travelers, most of whom stayed out late and made as much noise as possible on their way to bed.
In all, it only took us about a week and a half to find our flat, after viewing a number of properties that didn't work out for one reason or another.
Katrina and I are both well-traveled, and don't require much in order to be comfortable on the road. We've spent many nights in tents, cars, and overbooked hostels, so we were prepared for the stress of living out of our suitcases and spending eight hours a day pounding the pavement in search of our new home.
Some people would consider that to be an absolute nightmare, though, so I would advise you to think long and hard before putting yourself in this situation!
#2 – Where to look
This may seem like an obvious one, but it's actually one of the trickiest parts of the process. Outside of the major cities, there is no Craigslist in Britain, and most of the sites advertising student housing are shady at best. So where's the best place to start?
First, you should communicate with the accommodation office at your university. Even though you won't be living on campus, they can usually provide you with a list of reputable agencies who can help you with your search, and help you avoid the scammers.
Letting agents tend to be a good resource, and I would definitely recommend asking your uni to recommend a few. Essentially, a letting agent is a real estate agent who helps you find a place to live in exchange for a fee. In my opinion, it's worthwhile to pay the fee, since you are likely to be pressed for time and unfamiliar with the area. 
You don't have to be loyal to just one agency, though: visit them all to see all of your options and figure out which agencies let to students and what their fees are. (Thanks to our student blogger Emma T. for that last tip!)
#3 – Go furnished!
You will notice that flat listings in a uni town will refer to the property as "furnished" or "unfurnished". A furnished flat is one which already comes with most of the basic amenities: a bed, a couch, silverware, pots and pans.
You'll need to check with the landlord or letting agent to find out exactly what each flat will contain, but in most cases you should be ready to move in without needing to buy anything more than food and toiletries.
Needless to say, furnished is the way to go when you're studying internationally! The move is stressful enough without needing to go couch shopping.
#4 – Be prepared to pay
Even though private housing is often cheaper than uni accommodation in the long run, it will typically cost a lot more money up front to move into an off-campus flat.
Because they will not be able to run a proper UK background check on you, the landlord will often require you to pay a significant portion of the rent right away – usually a few months, and occasionally even the full year!
If you have enough money in savings or are getting a nice chunk of student loan money right away, this may be feasible for you, but ultimately it is often something that international students are not able to manage.
Before you decide not to stay on campus, you should make absolutely sure that you can afford these up-front costs.
#5 – Call on your friends
A good way to avoid paying an exorbitant amount of rent up front is to find a flatmate or housemate who is British and willing to be the primary leaseholder. That way, this person can be the main signatory on the lease, and can go through the normal background check, thereby putting the landlord's mind at ease.
Of course, this would require you to already have contact with someone in the area, which can be difficult to arrange in such a short span of time.
If this sounds like an attractive option to you, it might be worthwhile to seek out student groups from your uni on social media to see if you can initiate some friendships.
#6 – Security deposits
In the UK, security deposits are held by a private third party to protect you and your landlord from fraud. If a landlord or letting agent tries to make you pay a deposit to them directly rather than going through a DPS (Deposit Protection Service), you should check with your uni's accommodation or international office to make sure you are not being taken advantage of.
Remember that in a furnished flat, your security deposit depends upon the condition of the flat itself as well as the furnishings! If you break a glass that came with the flat, you'll probably need to pay for it out of your deposit.
#7 – Living with less
Britain is of course a very affluent country, and for the most part your standard of living will be the same as what you're used to back home. However, we North Americans sometimes forget just how cushy our everyday lives can be, and you may be surprised at the modest amenities in the typical student flat.
For example, our flat in York had a very small fridge, about three feet high, with no freezer. I wouldn't say this is typical, but it also isn't particularly out of the ordinary.
Most people outside North America get along just fine without a seven-foot stainless steel Frigidaire, and trust me: you'll get along just fine too.
One other tip: in a lot of UK flats, you actually need to turn the water heater on before taking a shower. Typically there will be a pullstring somewhere in the bathroom which you'll have to yank before turning the water on. I lived in our flat for a long, miserable week before I finally figured this out!
#8 – Consider your commute
When we first started flat-hunting in York, we fantasized about living smack in the middle of the beautiful, bustling city center. Unfortunately, things didn't work out that way. We wound up in a suburban neighborhood about two miles from the city walls, and also two miles from campus.
I bought myself a cheap bicycle and managed to make it to class on time, but there were days during the long, dark Yorkshire winter when I wished I hadn't chosen to live off campus.
All of this is just to say that you'll want to be mindful of the distance to campus when choosing a private flat. Use Google Maps and ask the accommodation office for advice: is the flat near a bus line or subway? Are the streets around it bike-friendly? You can save yourself a lot of frustration by sorting out these questions before you sign your lease.
Living away from the pack
This is by no means a complete guide to private accommodation in the UK, but I hope it at least gives you some food for thought as you decide where you're going to live during your international adventure.
If you have any questions about the above, your Across the Pond advisor is always a quick email away, so don't hesitate to get in touch!
Photo Credit: University of Exeter via Flickr