High tea… it evokes so much history and so much fun! Oxford is famous for some of the oldest cafes in England, including the beautiful The Grand Cafe, The Queen's Lane Coffe House, and the exquisite Ashmolean Museum! This week, I celebrated 6 months with my partner by going to high tea at the Ashmolean! It was a true treat for me, and in this blog, I'll be going over the best bits!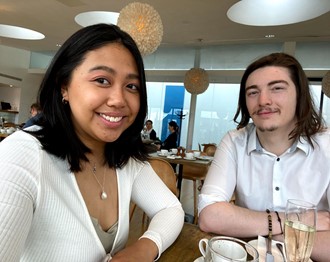 We sat at the window, overlooking the rooftops (it was too cold and windy to sit outside), and basked in the sun streaming in and each other's company. After tea, we got ready to see the exhibits in the museum! There was a beautiful section within the museum that discussed the history of tea and showcased several donated sets, as well as gave a succinct history on the subject! If you can, go check out the museum and enjoy the history of it yourself–it's a wonderful way to enjoy a rainy day!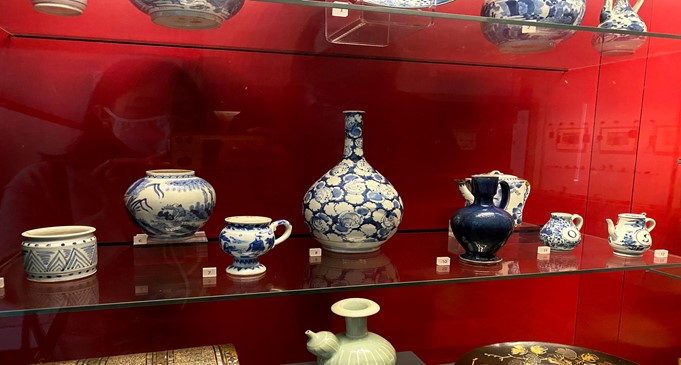 Now onto the meal itself:
First layer from the bottom
We start with the savory! We were served prosecco as part of our outing and our sandwiches were (to me) classically British. There were three sandwiches and one quiche. The first was cucumber finger sandwiches with creme fraiche, then egg and cheese with watercress on brioche, and finally crayfish and mayonnaise on granary bread. The quiches were asparagus and cheddar. The best of this layer was, surprisingly to me, the cucumber finger sandwiches! It was classic, refreshing, and well-made.
The second, middle layer
Oh the sultana scones! The clotted cream! The raspberry jam! I cannot rave more about this layer. It was warm, the cream was soft, and the jam was delectable. I have had scones from Tesco before, but they could not compare to this one. This is also the time when the tea came, classic English Breakfast with cream and sugar (my partner thinks I'm terrible for putting so much sugar!) and the pairing of these components together was perfect.
The third and final layer
Dessert! I have numerous amount of food allergies, so instead of the standard fare, we got two different types of flapjacks (which are NOT pancakes, more like granola bars but better): chocolate and oatmeal raisin, and the most delicate little finger victoria sandwiches with more raspberry jam and cream. They were my favorite! Absolutely delicious, soft, and a perfect way to end a beautiful meal.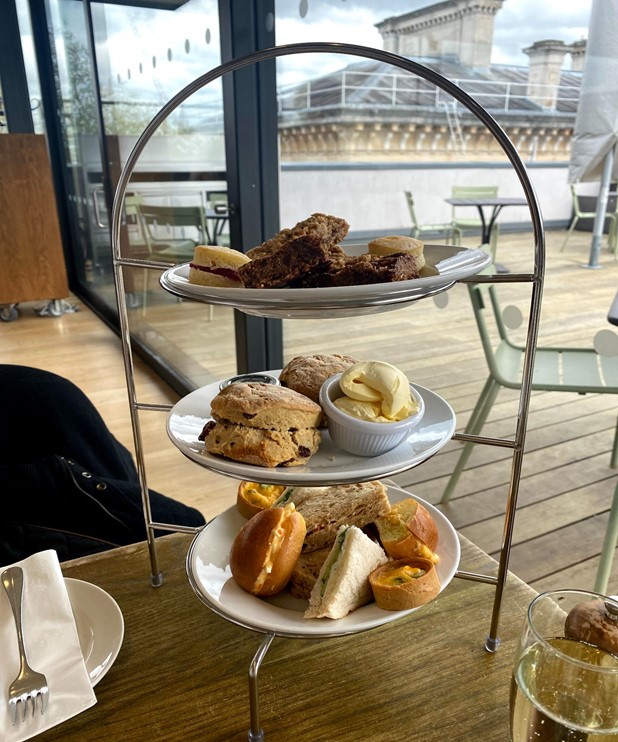 ---
I'd highly recommend going and trying out a high tea for yourself if you can! It's a chance to enjoy a great meal and experience some classic English treats while putting yourself in the shoes of the high society folk of old!
If you would like to find out more about studying in the UK, please fill out the "Contact an Advisor" form on the bottom or side of this page.
Published Originally: July 6th, 2021
by Phoebe Rutaquio, Across the Pond Student Ambassador
Studying at: Oxford Brookes University