Before arriving in the U.K., to start what has been one of the most incredible experiences, I questioned how I'd get around. As an American that drove everywhere back in the states, the idea of not having a vehicle for an entire year was a bit frightening. How would I get from one place to another without the constant accessibility of a vehicle? If this is one of your concerns, this blog is perfect for you 🙂
1. Getting Around Locally (Walking and Busses)
Durham University is known for its beautiful cathedral, stunning castle, cobble stone roads and the incredible river that runs through the city. With that said, walking is less of something you have to put up with and more of something you get to enjoy. Not only are the walks a relaxing time for you to self-reflect, the Durham city center has everything you need all in one central location. You can study, grocery shop, get supplies for uni, cut your hair, have afternoon tea and at the end of the day, enjoy a delightful dinner all within a half mile radius.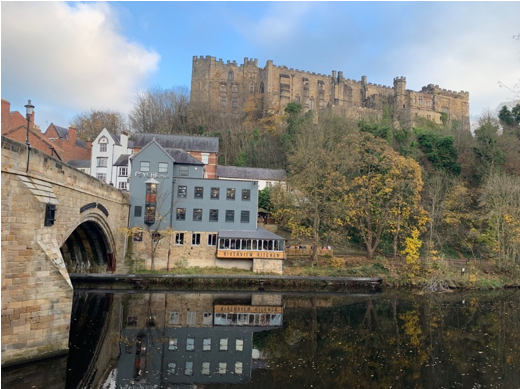 If you are not keen on walking, the bus system is great! They also offer student discounts along with majority of the businesses around town. I often get a student day pass, if I decide to run many errands, which is only £1 which can be used throughout the entire day!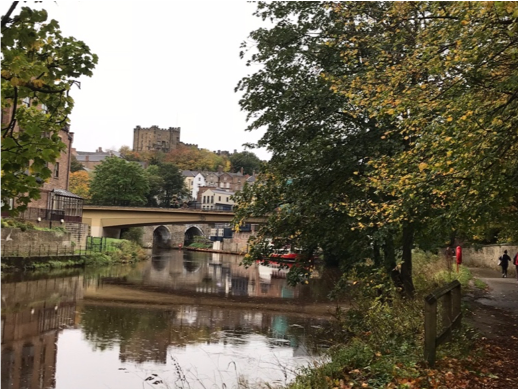 2. Train System
Thinking about taking some time off from study? Check out the incredibly efficient railway system within the UK. This is a great way to see what the United Kingdom has to offer. Whether you want to visit York for the day or Scotland for the weekend (two of my favorite places), the train is a great source of transportation. Due to the fact that Durham is a quaint town with not much shopping, I often take a quick 12-minute train ride to Newcastle for an approximate £9 road trip with the railcard.
What's a railcard?
I highly suggest getting a railcard to save money if you plan on traveling within the United Kingdom. There's an initial startup fee of £30 and a bit of paperwork, but you save more than the startup fee in a single trip to London. All you need to do is go into your local train station, ask for the paper work and they will guide you through the rest of the process.
3. Flights
I highly recommend taking advantage of flights while living in the United Kingdom. Flying from the U.S. to countries within Europe can be outrageously expensive. However, while living in England the flight prices are almost too appealing due to the fact that we are used to seeing such inflated prices to fly overseas. Make sure you set aside a weekend here and there to enjoy the incredible opportunities that await you outside the studying. Personally, I highly recommend checking out Italy!
4. Rental Cars
I'm not going to beat around the bush with this one… It can be a bit frightening driving on what seems to be the wrong side of the road. However, if this is something you fancy, I highly recommend it. Personally, I recently rented a small car to drive to Whitby which happens to be the inspiration of "Dracula". As frightening as that may seem, this adorable town is full of life… unlike Dracula.
As for pricing, I went through Enterprise Rental which cost £34.00 for a manual and £68.00 for an automatic… double the price! Fortunately, my boyfriend knows how to drive manual, so we were able to go for the lower price. Additionally, to the day rental charge, there is a security deposit, however that is reimbursed within a couple days as long as the vehicle is returned without damage.
I hope this helps! Enjoy you amazing journey in the United Kingdom and if you would like to find out more about studying in the UK, please contact an Across the Pond Advisor by filling out the form below or on the side of this page.
Also, here are some more blogs about ways to travel during while you study in the UK: