London: The Best University City In The World?
Sep 23, 2015 1:00:00 PM
When looking for places in the UK to study, many US students can't help but be drawn in by London's undeniable charm and vast benefits. With London's unique mix of historical character and modern development, it stands as one of the most diverse cities in the world and makes it ideal for students who are looking for higher education options.
It's not surprising that according to this study, London is the most searched for city by US students looking for colleges and universities outside of North America. 'Universities in London' is even the most popular search term made by US students relating to international study.
The most popular city
According to the latest figures, London is the most popular city for studying abroad for US students, with nearly 30,000 students flocking to universities. As Mayor of London, Boris Johnson stated, "It is no wonder we are the number one destination for US students studying abroad because London offers world class universities, has heritage and culture oozing from every pore and is the gateway from which to explore the rest of the United Kingdom and Europe."
This, coupled with some of the most amazing attractions a city could offer, makes London the top choice for US students. When not studying, students can enjoy world-class theatres, amazing shopping, and historical sites they only ever read about in textbooks—now all right before them!
Job opportunities in London
London is not just a bustling city for study, but it is also a city brimming with work placement and job opportunities. Our partner universities are well connected to the many professions and businesses in London, and they allow students to draw upon their unlimited expertise and networks in the city.
Gary Davies, Chair of London Universities International Partnership, points out, "It is a fantastic city to study in and not just because of the quality of education but because students can make connections with like-minded people, who share their goals, and come to London from almost every nation on earth; creating an important global network that will last them their lifetime and be invaluable in their future careers."
Thinking of studying in London?
For the past decade, Across the Pond has been able to offer free advice and guidance to students who are interested in our partner universities.
Officially partnered with some of the most popular London universities, we are able to help students to find Undergraduate and Graduate degree programs at a school that is the right fit for them. Unsure if London really is the best University city in the world? Download our guide below, and have your opinion changed.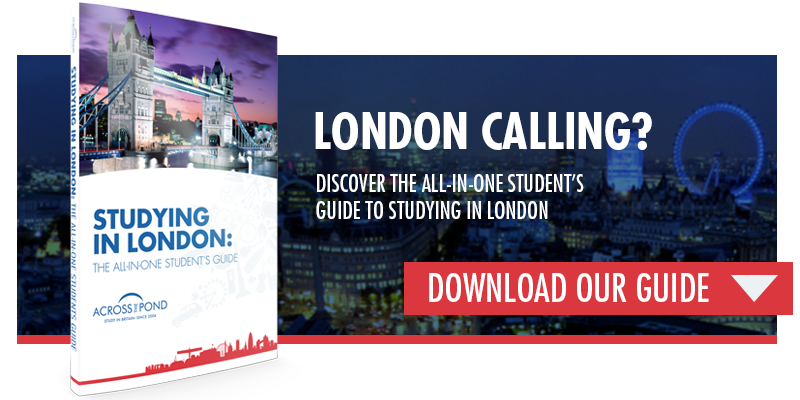 Photo Credit: DncnH