Published originally on Aug 7, 2017
by an ATP Student Ambassador
Updated: July 10, 2019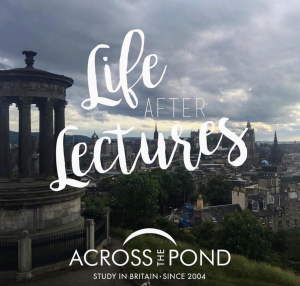 The English university system is unique because it consists of limited interaction time between students and university staff and many independent study hours, consisting of homework and reading. Because of this, lecture time is minimal and very valuable, but what do you do with the rest of your time?
Here is my guide to making the most of your life after lectures:
Join a Society
Many universities offer a variety of clubs and societies, and some offer unique day-trips, like hiking The Moors, or cheaper tickets to major concerts! My school has societies for wine enthusiast, Harry Potter lovers, Comic Book artists and football players (American and British). Additionally, these clubs are often either free, or less than £10 for a year's membership.
These societies can be great opportunities to make friends and see the local area, but it's important not to sign up for every single society you might be remotely interested in. University always starts off slow, but once the year picks up, you will only have time to go to one or two clubs regularly.
Experience Nightlife
Many cities in the UK are known for its nightlife. Most shops and malls actually close early to allow everyone time to relax with friends and family. Therefore, it might be in your interest to visit some local hotspots and hang out with the natives! You can brush up on your classic British pop hits, pick up some local slang and make new friends!
Or Alternatively, Spend a Night In!
Once you've settled into your new home and made some friends, it is always nice to have a get-together at someone's flat. Sometimes a board-game night or Harry Potter movie marathon is just the thing to help everyone detox from a week of intense studying.
One suggestion is to have an "anti-party." An Anti-Party is a gathering where everyone meets up, but there is no societal expectation to socialize. These events consist of everyone either talking, on their phones or eating while enjoying the company of others. This idea is perfect during exam weeks, when everyone wants to spend time with each other, but might be too stressed to organize an actual party.
Exercise
University can be very stressful, and staying mentally and physically in shape is more important than you think. Not only could you join a casual sports society or competitive university team, but also there are many other opportunities to stretch without necessarily socializing or breaking a sweat. Check to see if your school offers a yoga class or beginner's self-defense course. Additionally, going for a stroll around campus can be perfect to get some fresh air, explore the area and improve your cardio. If going for a jog or stroll could seem boring, check out some apps online that are designed to make your daily commute more interesting. From music radio, political podcasts and zombie-apocalypse themed jogging apps, there is something for everyone!
Take a Day Trip
Living in the UK is an amazing opportunity to travel on a budget. Apply for a 16-25 Railcard and get useful discounts for trains, busses and coaches. This lets you take a day out of the week and pop over to a nearby city to see the landmarks for a fraction of the normal price. However, day-of tickets can get a little pricey, so it's suggested that you buy a ticket a few days in advance online!
While this may be applicable to other areas of the UK, the West Yorkshire area in particular has a day pass that is roughly £8. These allow you to take any bus or train in the West Yorkshire area for that day. Just show the ticket, and you're in! Ask your local train station operative for something similar in your area.
If you would like to find out more about studying in the UK, please fill out the "Contact an Advisor" form on the bottom or side of this page.
Or, if you would like to read more about other ways to get involved on your British campus, check out these related blogs: