How to Budget While Living Abroad
Sticking to a budget can be hard, especially when you're a student with limited income. However, it's possible to have amazing adventures while staying within your spending goals! Here are some of our tips for budgeting your spending while abroad. I've answered some common questions about budgeting in the UK for you in this blog.
QUESTION 1: How much money do I have available each month?
Whether this money is from student loans, a job, or personal savings, it is important to have a good understanding of your monthly cash allotment. If you are receiving lump-sum payments through the University, they may only come once or twice a year. So, it's really important that your budget allows you to comfortably make it through to the next payment.  Similarly, if you are drawing from personal savings, divide the total into a monthly breakdown.
QUESTION 2: What are the essentials?
This part of budgeting is for the logistics. It would include your monthly essential fees, such as your rent, utility bills, travel costs, etc. If you live on your university's campus, many of these bills may be included. For example, electricity, water, heating, and wifi. However, if you chose to live off-campus or in private accommodation, it's important to have these consistent fees allocated in your budget. Many Uni students in the UK rely on public transport for their transportation around town or to commute to campus. These fees, the Oyster card or student railcards, for example, are important to include in your number crunching.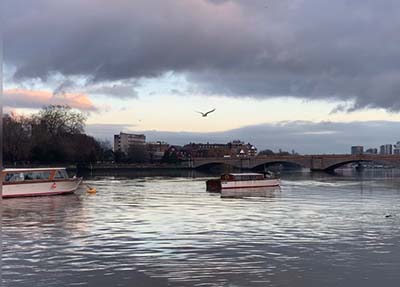 QUESTION 3: Will there be money left in my budget for activities and hobbies?
I am a firm believer that investing time and money in your hobbies and activates you enjoy is as important to your health as a balanced diet. While your primary purpose for being here in the UK is to study, you should give yourself the time and resources to enjoy your life here! For me, that tends to consist of international travel, trips to coffee and book shops, going to the West End theatres with friends, and ordering takeout on a night in. It's important to set aside funds for these activities to supplement your experience abroad. Ask yourself what activities you want to prioritize alongside your studies.
QUESTION 4: What if there is a worst-case-scenario?
To alleviate the worry and stress over what-if scenarios, I find it reassuring to include a pre-emptively budget for a miscellaneous and emergency fund. Whether it's to cover a trip to the optometrist when you sit on your glasses, playing a replacement fee for the student ID you lost, or making an impromptu weekend trip to the beach with your flatmates, having this catchall, "wiggle room" category in your budget will give you peace of mind.
BONUS: Budget Worksheet!
Budgeting doesn't have to be a strenuous, drawn-out process. It can be a quick list or chart, just a mental note of where your money is going each month. I created this quick template that's similar to the log I keep in my planner. I hope it helps you get proactive with your planning, so you can fully enjoy your time abroad!
If you would like to find out more about studying in the UK, please fill out the "Contact an Advisor" form on the bottom or side of this page.
Published Originally: February 16th, 2020
By Sarah Farmer, Across the Pond Student Ambassador
Studying at: The University of Roehampton