How To Become An International Event And Festival Expert In 12 Months
Dec 4, 2015 4:41:11 PM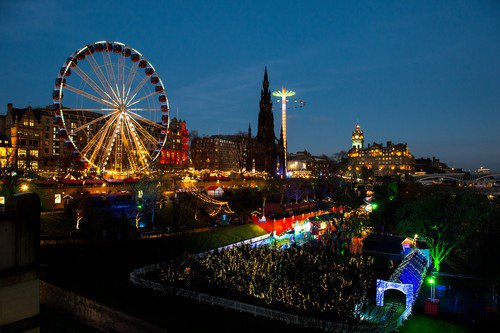 Got your eyes set on a top job running an international event or award-winning festival?
The satisfaction and excitement that you can take from organizing such an amazing experience for thousands of people is very alluring, but getting your dream job in an intense market can be difficult.

What you need to do is make yourself the ultimate event and festival expert – and one such university, Edinburgh Napier, may be able to help you realise your dreams in just 12 months.
About Edinburgh Napier
Edinburgh Napier is a multi-campus university and has three main campuses located in Scotland's beautiful capital city. Every graduate program at Edinburgh Napier is designed with each students' career path in mind.  Through their careers service, links with industry and enviable accreditations across the university, Edinburgh Napier offer a supportive yet challenging environment for all students.
And this approach extends to their International Event and Festival Management Master's degree, which students from around the world can take to become the ultimate expert! Here's what else you can do to boost your chances of getting your dream job in the future…
1 – Work in a festival city
Edinburgh, for example, is arguably the most famous festival city in the world. Travellers flock to this tourism-friendly city to experience its thriving cultural, seasonal and special events. Where better to study event and festival management? Not only that, Edinburgh is number one International Congress and Convention Association conference destination in the UK outside of London and rated 21 in the top 50 European City ranking (ICCA, 2013).
2 – Get an industry-related job
Now you've found a fantastic festival city, take your opportunity to find an industry-related part-time job to gain experience – no matter how big or small your responsibilities are. This will give your resume a boost and also give you the experience when it comes to working in other future roles.
3 - Understand the whole tourism industry
It's never enough to study a 'niche' subject such as festival management.  You need to understand the whole tourism industry, taking into account different cultures, business skills, management styles, and even marketing, to give yourself a good starting point in your career.
Edinburgh Napier's International Event and Festival Management Master's degree, in particular, offers to teach you these areas as part of the degree.
4 - Gain real-life experience
The more experience the better! You may have got yourself a part time job for a festival or event, but is there anything else you could do?
As part of the Master's degree, Edinburgh Napier also offers a compulsory and practical module that gives students the opportunity to produce an event experience in response to a brief set by the tutors. Yet another project that you could add to your resume!
5 - Get industry-related recognition
As a graduate in event and festival management from Edinburgh Napier, you will be extremely popular within the industry whether your career aspirations are local or international. You will find yourself in demand for a variety of management roles in various sectors and organisations, including festival management, event management, conference management and public sector organizations.
Becoming an expert
Hopefully, these tips have given you insight into what you can do to get your dream job in event and festival management. Remember it's not always about focussing on the Master's degree – think about the city you're going to study in and the chances you've got of getting an industry-related part time job too.
To fast-forward your aspiration of working in the international events and festival sectors, get in touch with our advisors today to see how Edinburgh Napier University could be the perfect fit for you.