How to become a professional fiction film maker in 12 months
Apr 13, 2016 4:53:25 PM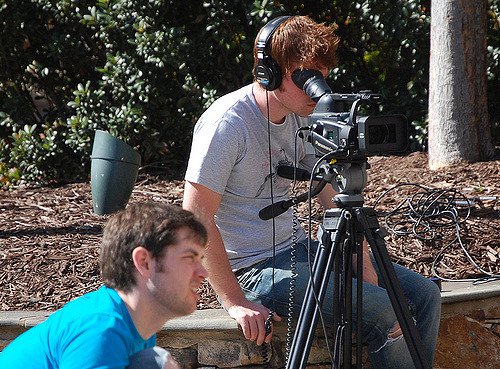 Are you thinking of fast-tracking your career into the film industry? Whether you're looking to become the next award-winning Director or highly-acclaimed Producer, you can give your career a real boost by looking at studying a Master's degree in Film.
Believe it or not, these types of Master's degrees are now available to take in just 12 months, meaning you can get into the industry quicker than you expect! If you're thinking of studying abroad, Edinburgh Napier University in the UK offers you one of the best Film Master's degrees available.

Here's how, in just 12 months, you can become a professional fiction film maker studying at Edinburgh Napier University.
You will learn…
The Film Master's degree at Edinburgh Napier will advance your knowledge of your chosen specialist area as well as giving you a rounded understanding of other film making disciplines. On completion of this course, you will be in a strong position to take up an entry level job in the industry, or, set yourself up as an independent practitioner as either a director, producer, cinematographer, editor or sound designer.
The course includes…
Teaching is through a combination of collaborative, shared modules, and modules that are geared to each individual discipline. Students spend about half their time concentrating on their chosen discipline and half their time acquiring general film making skills. Coursework consists of a large number of practical exercises and projects that allow students to deepen their own technical, creative and professional film making skills.
Individual subjects…
Split up into three trimesters, subjects that you could study as part of the Master's degree includes: motion graphics, VFX, sound for film, collaborative film techniques, creative practice, script writing, the business of screen and critical film study. A great breadth of specialist subjects that you can study in greater detail than you ever have done before.
Take advantage of Screen Academy…
Screen Academy Scotland is an active film making hub in the culturally vibrant city of Edinburgh. It offers great scope for collaboration, with some 200 or so students, at undergraduate or graduate level engaged in diverse film activities. Students at the Screen Academy have access to a complete range of professional production and post-production equipment, including Arri Alexa, HDCam, Super 16 mm, Avid, Final Cut Pro, Pro-Tools and a fully equipped dubbing facility. And they can draw on support from tutors who themselves have significant experience in the industry.
About Edinburgh Napier University…
Located in Scotland's capital city, Edinburgh Napier University has something to offer the most eager of film students. Edinburgh itself features all the wonderful amenities of a major cosmopolitan city, without any disadvantages you find in many capitals.  If you're looking for a historic destination that is iconic and cultural but also has a buzzing city vibe, then look no further than Edinburgh.  It's surely a place that you will call home in no time.
Even more, Edinburgh Napier's MA Film degree gives you the chance to study a specialism within your field, giving you the stepping stone you need to force your way into the industry. To find out more about the Master's degree, the university and the city of Edinburgh too, why not speak to one of the ATP Advisors today who can answer all your queries, fast.
Photo Credit: Flickr