Who doesn't love spooky decorations, caramel apples, pumpkin patches, festivals, and candy corn? This time of year is about all things Halloween… Or is it?
Halloween for me has always been a big deal: We go to all the fall/Halloween festivals possible, I paint my little sister's face and take her trick-or-treating for hours! Basically, it is one of my favorite holidays. So of course, I thought "Halloween is about to be LIT in London! Why wouldn't it be?" This is probably true to some extent, except being in London during Halloween and a pandemic has made things a little different this year. I have learned very quickly that you need a ticket for anything and everything and because of the pandemic, and there will be limited capacity and hours for activities you want to participate in.
All that aside, I am still taking advantage of the things I can do, and here are some spooky activities I can suggest to keep the Halloween spirit alive, even in these funky times:
1. THORPE PARK
My birthday is in the fall, so I got to go to Thorpe Park, and we rode Saw the ride…and if that isn't Halloween then I don't know what is! Jigsaw was everywhere and the ride was completely dark the whole time except to show you the next scary piece. There swinging axes hissing air compressors and crazy drops all in the dark. It was amazing!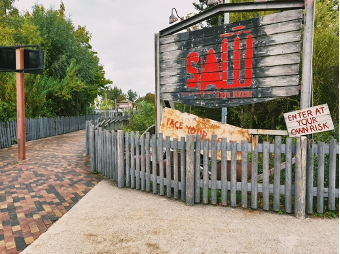 2. KENSINGTON CEMETERY
I've visited Kensington Cemetery and had an amazing walk through the overgrown weeds and grass to discover old tombstones. I saw ravens decorating the grounds as if they were an art installation and of course I saw a lot of spiders. It was a very eerie and beautiful place. Definitely worth the visit!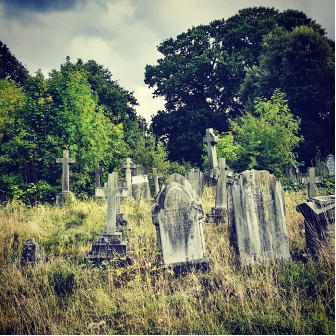 3. #PSL
On a less spooky note, I have also filled my fall/Halloween cravings with Pumpkin Spice Frappuccinos. I didn't think I would love them so much, but Kingston does them upright!! It's become a staple for me and the girls to go to Starbucks before school and days out so I can get some fall goodness!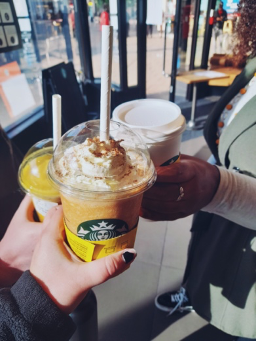 Bonus: I also look forward to carving pumpkins on Halloween! Carving pumpkins is my favorite thing about Halloween and it seems to be a popular activity to do around which is amazing.
It may not be the same as home, but it's still been great! New friends, theme parks, Frappuccinos, and pumpkins in London…what more could you ask for?
If you would like to find out more about studying in the UK, please fill out the "Contact an Advisor" form on the bottom or side of this page.
Published Originally: October 27th 2020
by Morgan Childers, ATP Student Ambassador
Studying at: Kingston University