Christmas Time While Studying In London
Jan 3, 2017 1:28:43 PM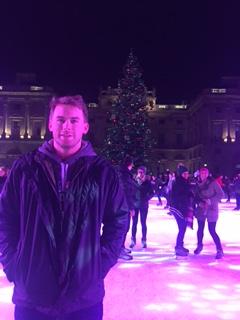 Christmas time is my one of my favorite times of year. Some of my favorite movies are always on during Christmas time including Home Alone, Elf and A Christmas Story. My mother always makes cookies during Christmas time and we always go to the Christkindlmarket in Chicago to look at the shops, lights and drink some mulled wine. This Christmas will not be like any one before because it will be the first time I spend it away from Chicago. London is full of things to do during Christmas time so even though it is different, it is still the best time of year.

In London, Christmas time starts before Thanksgiving; this year they turned the Christmas lights lighting up Oxford Street in early November, which is great for getting everyone in a festive mood. Everyone gets together and the Christmas merriment starts, with shops and stalls being set up in the streets to begin the festive year. There are songs to be sung, wine to drink and a good time to be had.
In Hyde Park every year they have something called Winter Wonderland. This is something else you have to go to. They have shops with cool souvenirs for friends and family back home, and enjoy plenty of mulled wine and cider, and traditional German food. You can also see The Nutcracker on Ice or you can enjoy amazing views of the London skyline from the Soar 60 meters above Hyde Park on the giant Winter Wonderland Ferris wheel. But the highlight here is the Magical Ice Kingdom which is a thrilling experience, taking you on a voyage across the sea to a frozen island.
Throughout London there are also plenty of places to go ice skating. Although Winter Wonderland has an ice rink, why not explore further into London during the festive period? My friends and I went to Somerset House which was  great fun. You can also skate outside of the Tower of London, which intend to do. Bear in mind, you do have to pick and choose what you want to do because it can get pricey for students.
A lot of parks and gardens also have Christmas lights on throughout the season which you can visit as well. Richmond botanical gardens has Christmas lights which are amazing and something fun to do with some friends when you have a break from studying. If you are staying in London for Christmas, there are tons of great places to eat on Christmas day. Most places start promoting Christmas dinner in November and they start to take bookings around that time as well.
Christmas will not be the same for me this year being away from my family back home, but experiencing Christmas in the UK will allow me to understand how different cultures spend the festive season. If you would like to find out more about studying in the UK, please contact one of the Across The Pond Advisors.