An A-Z of undergraduate courses for overseas students in the UK
Aug 26, 2015 7:35:00 PM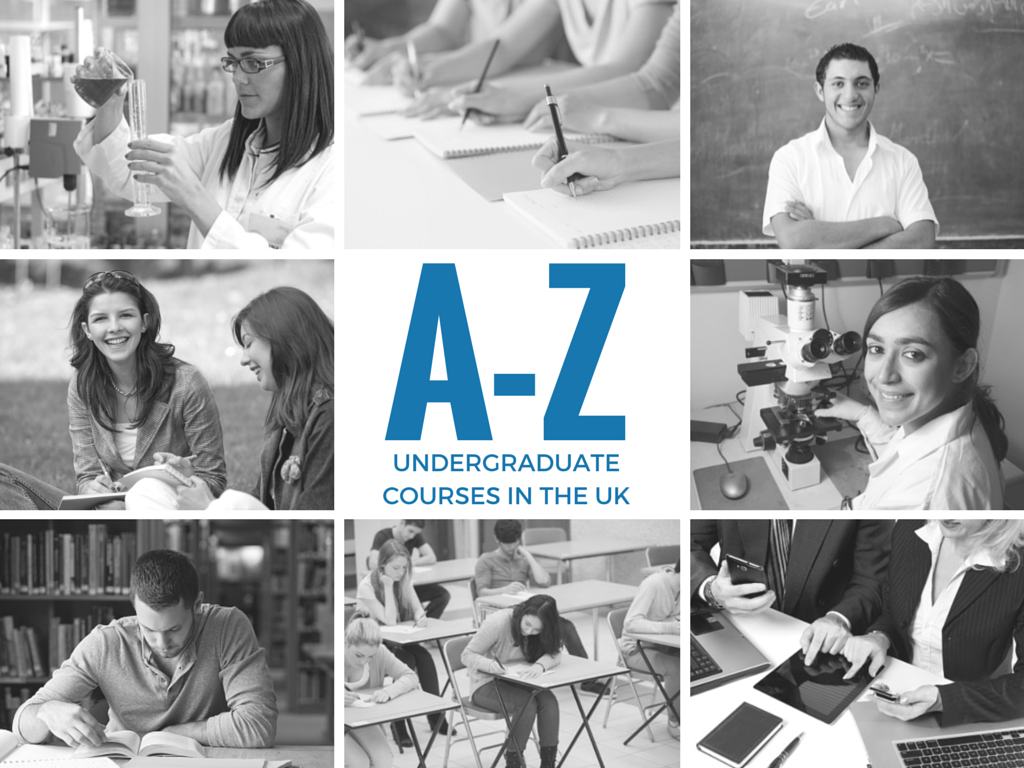 Not only can studying in the UK open your eyes to a new culture and way of life, you can also take advantage of a plethora of great courses that overseas students can study in the UK.
To give you just a small sampling of the diverse range of university subjects available, here's an A-Z list of what you can study. But remember, this list is not exhaustive!

A is for Advertising
For those who want to pursue a career in marketing, advertising courses in the UK consist of a wealth of topics including digital marketing, research and brand strategy.
B is for Biochemistry
Are you amazed by the structure and function of living organisms at a molecular level? Biochemistry will allow you to discover cells, cancer and microbiology in detail.
C is for Creative Writing
Whether you're a budding author, script writer or poet, creative writing courses allow you to develop your writing skills and learn to critically assess your own work.
D is for Dance
Ballet? Street dance? A dance course gives you the tools you need to go into a career as a professional dancer or choreographer. But beware, this is a highly competitive industry.
E is for English
Where better to study English than in England? Get to grips with discourse analysis, forensic linguistics as well as literary icons from Shakespeare to Pinter.
F is for Fine Art
Spend your time in the studio working on your own masterpieces while taking in inspiration from artists around the world. Courses range from traditional disciplines, such as painting and sculpture, to multimedia installations and graphic design.
G is for Geography
There's nowhere better to study geography than the picturesque countryside of the UK. Study the environment, biological science and potentially study in another country during your final year.
H is for History
Another subject that is perfect to study in the UK due to the Kings, Queens and wars that have molded the country over the years. Prepare to learn more than just British history though.
I is for Information Technology
Whether you're a keen coder, software developer or want to create the next big release console game, there is a huge range of IT courses, including those with a creative industries angle.
J is for Journalism
Journalism has dramatically changed in the past few years with the introduction of social media. UK courses will equip you to make an impact on digital platforms as well as TV, radio and traditional print media.
K is for Kindergarten
Nursery care or child care as it is more commonly known in the UK will provide you with the theoretical and practical background you need to go into a successful career with children.
L is for Law
A big favorite for overseas students, Law courses at UK universities can be completed more quickly than their counterparts in the US – giving you the chance to get into the jobs market sooner.
M is for Music
There's a thriving music scene and a wealth of iconic performers living in the UK. Feed off the musical buzz while completing your degree in Britain.
N is for Nuclear Engineering
As the need to look for alternative energy sources increases, the demand for nuclear engineers increases too. Learn about systems and safety procedures to prepare for a career in the industry.
O is for Oceanography
Does the ocean fascinate you?  Why not study oceanography in countries surrounded by water?  This degree program is open to students with and without a background in marine science. 
P is for Politics
Whether you want to focus on international relations, diplomacy, human rights, peace and conflict, or security and defence, you are probably interested in directly engaging with other countries and cultures.  With the UK at the doorstep to the rest of Europe, there is no better place to make those connections.
R is for Religious Studies
The UK is home to a diverse group of cultures and faiths, but the most popular religions to study are Christianity, Islam, and Buddhism.
S is for Software Engineering
Offering a broad range of courses including an emphasis on engineering and design, you will develop high quality systems as well as using real-world software systems for experience.
T is for Theatre
Ever wanted to take to the stage in the lead role? Learn art, dance, design and film alongside as well as coming together with classmates to create a group performance.
U is for Universe
Interested in stars and galaxies? How about a degree in astronomy or astrophysics where your scientific and mathematical knowledge will be tested to the limit?
V is for Veterinary Science
Have you got a love for pets and animal welfare? If you've got a strong biology background, enroll in a veterinary sciences course to discover a world where the little creatures in our lives are cared for.
W is for Wildlife
Do you like the idea of looking after planet Earth? There are plenty of ecology and wildlife conservation courses for you to take in the UK. This is your chance to take part in research that matters.
X is for X-Ray
If you're looking for a career in medicine, the UK offers lots of choice including radiography and medical technology. Both these types of courses come with practical placements with professionals.
Z is for Zoology
Another great area for animal lovers to study, if you've got an aptitude for science and studying animal anatomy, a zoology course may just be for you.
Struggling to find a course?
There is a course for every student in the UK, no matter what your interest is, but we understand it can be hard to find the right program for you.
To help you find the right university course, get in touch with an advisor from the Across the Pond team.
We can help you not only find the right course, but also the right university for you.