Advice on Traveling to the UK During the COVID-19 Pandemic
*Disclaimer: This article was written in July of 2020. Everything mentioned here is subject to change in time with the course of the Coronavirus pandemic. Always seek up-to-date information and advice on traveling to the UK from your Across the Pond advisor, or official sources.
Due to the Coronavirus pandemic, the UK has set special policies on travel. For example, a mandatory 14-day quarantine period has been put in place for travelers from the USA. I know you might be worried about travel or scared about how to manage this quarantine requirement. As someone who went through this process just a few weeks ago, I can assure you that it is not as difficult as it might seem!
Here's the lowdown on what to expect, along with a few tips and tricks to make your two weeks in self-quarantine flow smoothly:
Before You Depart
As of the time I am writing this, the UK Government requires all travelers entering the UK to complete an online form to provide journey and contact details. The form can only be filled out within 48 hours of your departure time. For that reason, I suggest doing this when you check-in for your flight. It's helpful to have your passport, travel information (such as flight number and booking reference number), and the address of your UK residence handy. The form is a bit lengthy, but most of the questions are straightforward, so you shouldn't find this too burdensome.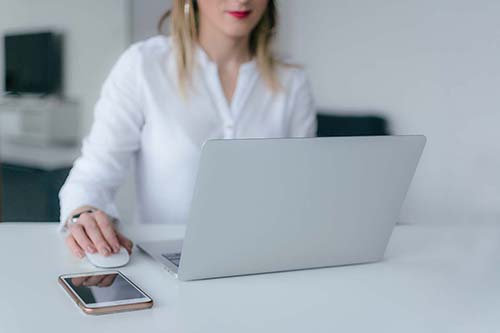 While Traveling
Many airlines and airports now require you to wear a mask, so make sure you bring a couple with you. These will also come in handy for when you get to the UK, as it is currently mandatory to wear a mask on public transport and in shops. It's also a good idea to bring along some hand sanitizer and antibacterial wipes. I also chose to bring all of my food with me (except for water, which I bought after passing through security), but this isn't necessary! Oh, and speaking of security… If you have TSA Precheck, it will come in handy as you won't have to take your liquids and electronics out of your bag!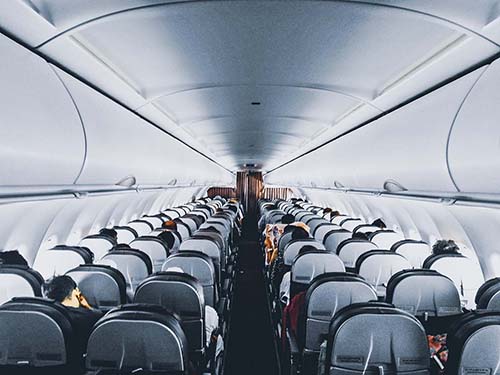 When You Arrive
Generally speaking, the arrival process at immigration is similar to what it would be pre-Coronavirus. The exception is that they will ask to see the completed online form that I mentioned earlier. Print out a copy if you can, but they will also allow you to show it on your phone. After you get through immigration and collect your things, you should find your way to where you are staying. The guidance is that you should travel directly to where you are staying and avoid public transport if at all possible. Because of this, it could be helpful to contact your university to see if they have any special transport arranged for arriving international students.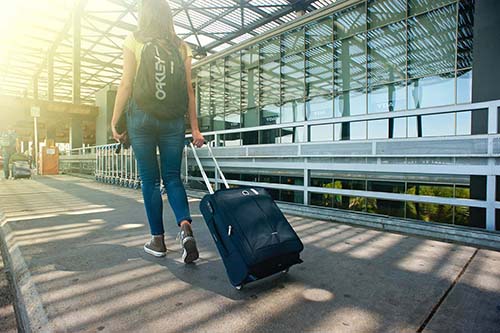 During Quarantine
I strongly recommend (and I cannot stress this enough!) that you get in contact with your university to make them aware of your arrival date and the fact that you are subject to a 14-day quarantine period. If you are in university halls, it's possible that they could help you make arrangements for deliveries to be brought directly to your flat!
I would recommend that you try to arrange for the essentials (like bedding and cookware) to be delivered by post. I arranged for some deliveries to be accepted before my arrival date by emailing my university's halls team and explaining my circumstances. A few great places to shop that delivers are Amazon, Argos, and Asda.
As for food, many supermarkets offer home delivery services that can be booked in advance. I booked delivery for my arrival date a few days before I left the USA. If you can, it's helpful to bring enough toiletries and medication to last you at least 2-3 weeks, but it is relatively easy to add these to another one of your deliveries if you don't have enough room.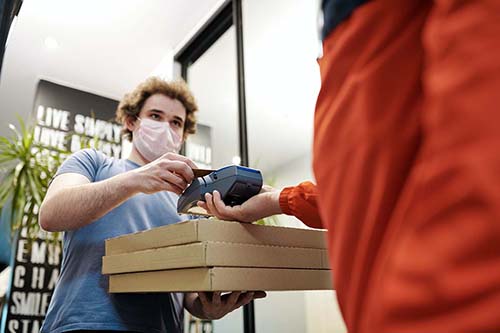 If you have any issues or concerns during your self-quarantine, reach out to your university or halls team – they should be able to help you resolve most issues!
Studying abroad can be an exciting and life-changing experience. If you would like to find out more about studying in the UK, please fill out the "Contact an Advisor" form on the bottom or side of this page.
Published Originally: July 30th, 2020
by Victoria Crawshaw, Across the Pond Student Ambassador