Across The Pond Alumni: Christian's UK Study Adventure
Sep 30, 2016 5:30:00 PM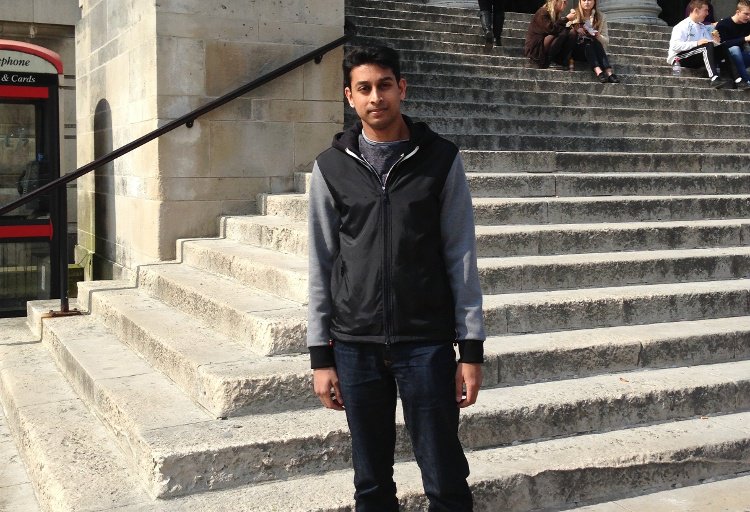 Choosing a PhD
Thinking about doing a PhD? It's all about the research! I had started looking at PhD programs in the UK following the completion of my Master's. After some online research, I had found a few projects of interest and got in touch with an Across The Pond Advisor, Jasmine, to help guide me through the application process.

I yearned for an education that provided me with the opportunity to do practical lab work and engage in a research community. I selected to apply to the University of Leeds since my supervisor showed a keen interest in me, and the project I was offered was very interesting. Now that I have spent nearly a year, I have been able to learn a number of skills in my new lab and I have been able to engage with other labs and supervisors on multiple occasions organized by the university.
Moving to the UK
There was some trepidation when moving to the UK, the idea of staying in a university accommodation was a bit daunting. The space was small and the closeness to university meant the separation of school and life was a bit difficult. I grew used to it over time and in the end it was an alright experience.
There is a range of options for living off campus which I found worked better for me and I definitely enjoyed this experience. Studying in the UK has introduced me to prospective careers that I hadn't considered before in education and industry, such as working as a development scientist at a company testing and improving scientific methods and sharing these advancements with the research community.
Enhance your skill set
Choosing the right program and school can make all the difference. I am nearing the end of my first year in my program and my time at the University of Leeds has improved my research skills. The UK style of teaching requires more emphasis on collaboration and sharing, as a result I have improved my written and oral presentation skills through meetings with my supervisor and research group. I have also gained a number of different experimental techniques during my time here which have increased my research profile.
In addition, I now have an appreciation for the administrative aspect of research which enables labs to conduct research at universities. My experience of UK education has been great and my aim towards the end of my project is to stay in the UK and continue research either here or in another lab.
Support and career development
During our induction week we were introduced to a member of the administrative team that specialized in career development, she provided insight into the world of academics and industry and what online resources were available to us as developing researchers. It introduced students to university hiring schemes and research companies, whilst teaching us how to improve our likelihood of finding placements at these institutions.
We were encouraged to create an account on 'Orchid', a system which researchers use to catalogue research papers and chart career development. I found this session quite informative as I am interested in both academic and industry professions.
Explore what's on your doorstep and beyond!
I haven't travelled outside of Britain however there are a number of opportunities to visit Europe by plane or train. The ease of getting to Europe is a big draw for many international students in the UK; a long weekend can be spent in a number of nearby countries.
Personally I have taken to hiking in the British countryside; Ilkley, Malham and the Lake District are all lovely trails in Yorkshire. York is a lovely, quaint city complete with cobblestone walkways and tea rooms. Further north is Scotland and Ireland is close and cheap to fly to. I would definitely recommend trying to get some travel in during your studies because there are lot of interesting places near Britain that are cheap and easy to travel to.
What I have learnt
The number one piece of advice I can give is make sure you are interested in your project, coming from a postgraduate perspective conducting research on something you aren't 100 percent interested in is a waste of time and money.
Another important point to postgraduates is make sure you get to know your supervisor, this can be difficult given their busy schedule but you don't want to end up working for someone who is hard to get along with. If you're an undergraduate, make sure the course you take counts towards your credits at your home university. While studying in the UK is certainly an amazing experience you don't want to delay the completion of your degree just because you wanted an exotic education.  
Finally, if you feel like the UK is somewhere you definitely want to study make sure you start searching early. I spent nearly a year prepping for my studies in the UK and I still felt rushed at times. From contacting your supervisor, liaising with your ATP Advisor and the university you'll be sending hundreds of emails and the visa application process is something you cannot rush through. With the help of Across The Pond, the process was made as straight forward as possible.
Best of luck with your studies!