5 Steps to Becoming a Top Journalist
Mar 24, 2016 10:29:13 AM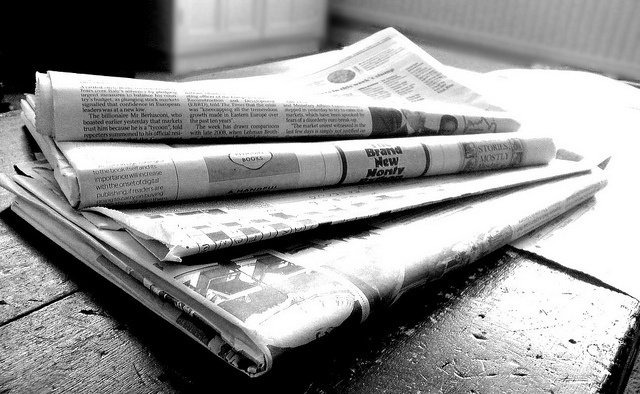 Everyone always wants to know everything, and it is for that reason that journalism is a never ending career. While the digital age might be changing journalism from its traditional, newspaper form, it's still a booming industry, open to incredulous opportunities.
As a journalist, you'll know what happened, why it happened and who caused it… before everyone else. But it's a competitive world out there, so how can you set yourself apart from the rest? Here are 5 steps you need to follow to become a TOP journalist:
1. Be inspired
For many journalists their love for writing and telling stories started early, and isn't a career that people have just stumbled upon. This deep passion for journalism is needed if you choose to pursue your future in this field, as there will be harder times that you'll have to ride out. So when thinking about being a journalist, ask yourself, do you really love it? Because you need to.
As said by Editor, Henry Anatole Grunwald, "Journalism can never be silent: that is its greatest virtue and its greatest fault. It must speak, and speak immediately, while echoes of wonder, the claims of triumph and the signs of horror are still in the air."
2. Get your education
Editors won't hold your hand, they need people who can hit the ground running. And according to Professor Richard Sambrook, director of the Centre for Journalism at Cardiff University, "a degree in journalism produces graduates with three elements that employers want: initiative, training in how to write a story according to media law and ethics, and fluency in social media."
Nowadays, it's unlikely that an employer would even consider your CV if you don't have a degree. Completing a degree to a high standard requires independence, drive and attention to detail, that when starting out, you won't get from anywhere else.
3. Choose the right location
In the media industry, the location that you're in really matters. You need to look where the national media companies, and major bureaus are, in order to get the best opportunities and scope for your career.
Most students know that if you want to be a journalist, you need to head for the cities. While this is true to an extent, the digital shift in the industry now means that it's easy to work remotely too. So depending on what kind of journalist you are looking to be (in-house or freelance), you have the power to choose where you want to be.
4. Be competitive
This field is extremely competitive. Both competitive in terms of getting a job as a journalist, but also to move up within the industry – but you're in control of this, as it is all performance based.
The heart of journalism will always be people telling stories, and through this skill is where you'll gain your industry 'seal of approval'. And remember, the ability to find things out is much more useful to your bosses than witty comments, so don't be afraid to unleash your competitive streak – you need to stand out.
5. Build strong relationships
If you're going to be part of the media, you need to invest a lot of effort into building and maintaining strong relationships – and we don't mean just from when your job starts. Start building these relationships now, with your mentors, colleagues and your peers. If they're in the same industry as you, they can make great contacts and provide you with sources or subjects, which will in the long term will make you better at your job.
Study your Journalism degree…
The Journalism degree at Edinburgh Napier University is one of the most prestigious and longest established journalism degrees in Britain. As a course, it is committed to producing highly capable graduates with a strong and standout skillset – you won't just be a student, you'll be a working journalist. And you will be challenged.
Interested in finding out more about studying your Journalism degree at Edinburgh Napier University? Why not get in touch with one of our Advisors today, and we can discuss the options that are available to you.
Photo: Jon S