3 myths about getting a degree at a British university
Aug 17, 2015 9:29:00 PM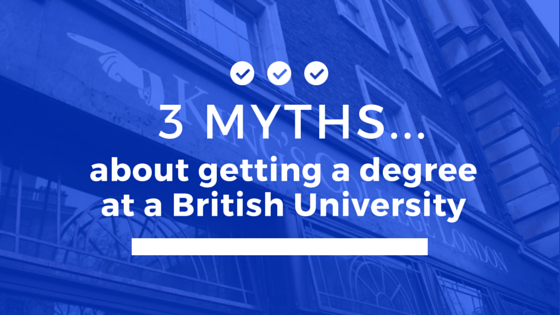 Most students are excited by the prospect of getting a degree overseas, but too often they are too discouraged by imagined obstacles to pursue that goal. Let's look at the three biggest myths that stand between you and your future at a UK university.

Myth #1
"British universities are more expensive than American ones"
People assume that it must be more expensive to get a degree overseas than back home, but in fact British universities are priced comparably to their American counterparts, and in many cases getting a degree in the UK will actually be cheaper than staying home!
Recent estimates place the average yearly tuition for a private American university at about $31,000. Meanwhile, a public university will typically cost almost $23,000 per year for an out-of-state enrolee, and almost $10,000 for an in-state enrolee.
By comparison, the average cost of a degree in the UK – even factoring in overseas fees and the international exchange rate – is between $20-25,000 per year.
Bear in mind that a Master's degree from a British university takes only one year to complete, meaning that this represents the tuition for the entire degree, compared to an American program which will typically run 2-3 years in length. And even undergraduate degrees are shorter in England and Wales: most bachelor's degree programs are only three years long, compared to the typical four-year US degree (which, as we all know, commonly stretches out to five or even six years).
Even if you're aware of the UK's competitive fee structure, you may not realize that you can use your federal student loans to study at a British university. All of the universities represented by Across the Pond are recognized by the US Department of Education for this purpose, so you can fill out a FAFSA just as you would for an American university, and bring your approved loan funds with you to the UK.
Myth #2
"A degree from a UK university won't be recognized back home"
You may be concerned that the differing course lengths and academic approaches at UK universities will mean that their degrees are not recognized overseas. Not true! By and large, universities in Great Britain (including all of those represented by ATP) are fully recognized back home and will be considered academically equivalent to a degree earned in America.
There are, of course, certain specialized fields requiring local certification where a degree from overseas may not be appropriate. Examples may include medicine, dentistry, law, and teacher certifications. But with a few exceptions, your degree from a British university – whether it be in the arts, sciences, humanities, or engineering – will be roundly recognized in the US for the purposes of employment or further study.
Myth #3
"UK universities are extremely competitive, and I'm not a strong enough candidate"
The UK has one of the most prestigious and influential education systems on the planet, so naturally many students assume that the standards for acceptance at a British university must be out of reach. Of course, the UK is home to a diverse group of universities with varying requirements, but in general American students are pleasantly surprised at their success rate in applying.
The British system focuses on depth rather than breadth – meaning that students focus on their chosen subject rather than taking lots of liberal arts or general education courses – and this means that universities will be much more interested in your grades within your major than with your performance in lower-division classes. If you're an Engineering applicant with excellent science grades, but your GPA is slightly bogged down by a poor showing in History, you shouldn't allow yourself to be discouraged from giving the UK a shot.
It's also worth noting that in most cases grad school applicants in the UK are not required to take the GRE or any other standardized test in order to be admitted. You will be assessed entirely on the strength of your application, rather than how you performed on one exam one morning.
Need help?
At Across the Pond, we guide our applicants toward the universities we think are best for them, and then work alongside them throughout the process to make sure their application is as strong as it can be. This personal approach enables us to boast an acceptance rate of 98%.
So if you're thinking of getting a degree in the UK but have been discouraged by any of these misconceptions, we encourage you to reach out to an ATP advisor to learn more about making this dream a reality!