15 British Dishes Every American Student Should Try
Published originally on Apr 29, 2015
by an ATP Student Ambassador
Updated: July 10, 2019
Some say that British food is bland and boring, but have you tried any of these British delicacies?
Fish and chips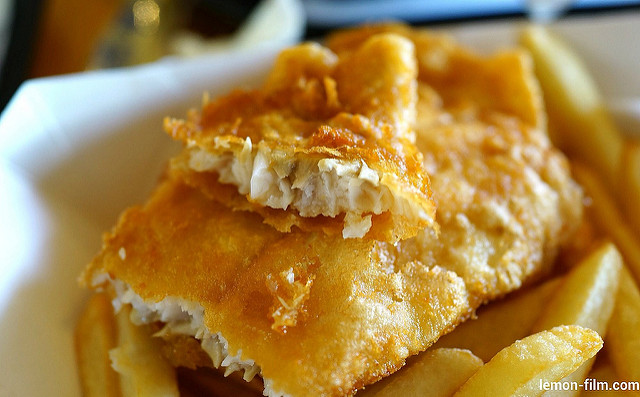 This classic British dish dates back to the mid-19th century when trawl fishing in the North Sea rapidly increased. The dish consists of fish (usually cod or haddock), battered and deep fried, and served on a generous pile of chips – the British term for French fries (potato chips are called crisps).
This UK staple, traditionally wrapped in newspaper and eaten on Fridays, tastes even better with a generous splash of malt vinegar.  With 10,500 specialist fish and chip shops now operating across Britain, though, it is clear that this is an acceptable meal any time of the day, any day of the week.
Sunday roast
Another meal traditionally eaten on a particular day of the week, these days Brits enjoy this old favorite all week long. The Sunday roast consists of a slow-roasted meat (beef or lamb being the most common) served alongside vegetables and the infamous Yorkshire pudding, a fluffy roll made from the drippings of the roast meat.
No Sunday roast is complete without gravy, horseradish sauce (for beef) and mint sauce (for lamb).  A Sunday roast provides the perfect excuse to meet with friends in the pub and have a relaxing but extremely filling meal together.
Spotted dick
Putting the cheap jokes aside and concentrating on the matter at hand, who can resist delicious, steamed cakes filled with dried fruit and served with heaps of custard?
For many Brits, it doesn't get much better than this. Once you work up the courage to order it out loud, we promise you won't regret it.
Chicken tikka masala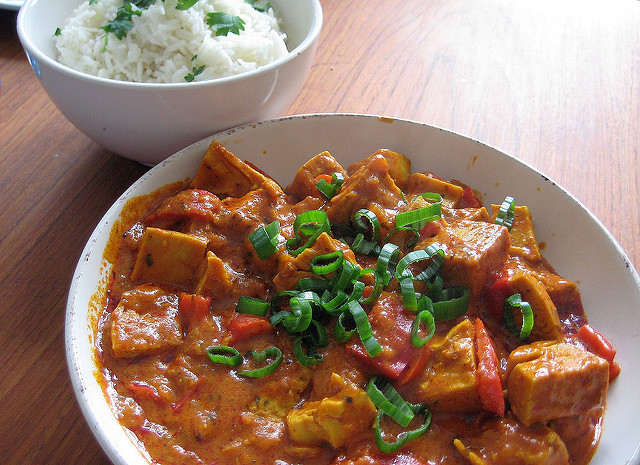 In the days of the British Empire, the British Isles saw a significant influx in new spices, and the British people quickly acquired a taste for curries. Today, curries are some of the most popular dishes in Britain, and chicken tikka masala is the most popular of all.
But is it authentically Indian? The answer is no! This particular curry is said to have originated in Edinburgh, although some claim it is a 20th century Punjabi invention. One British politician even campaigned, unsuccessfully, for Glasgow to be given EU Protected Designation of Origin of this most popular dish.
Bread and butter pudding
How about a slice of bread and butter pudding? This is as good a place as any to explain that Brits use the word pudding to refer to any dessert, even if it doesn't have a custard as a deliciously creamy accompaniment. Bread and butter pudding is a case in point; sometimes it will be gooey (like a pudding), but just as often it will be a bit more of a spongy bread (like spotted dick, discussed earlier).
Either way, it will be delicious. Recipes for bread and butter pudding date back to the 18th century, but the dish saw a revival in the 1970's with the publication of The Paupers Cookbook, and numerous variations can still be found in pubs and restaurants throughout the UK.
Victoria Sponge
There is no cake more British than the traditional Victoria Sponge. Named after Queen Victoria herself, who ruled the kingdom from 1837-1901, the dessert consists of raspberry jam and whipped double cream or vanilla cream sandwiched between two sponge cakes.
Most importantly, there should be no more decoration on the top sponge than a mere dusting of icing sugar. Any more than that, and it's just not cricket! (That is British slang for "inappropriate conduct.")
Best eaten alongside a freshly brewed pot of English Breakfast tea.
Doner kebab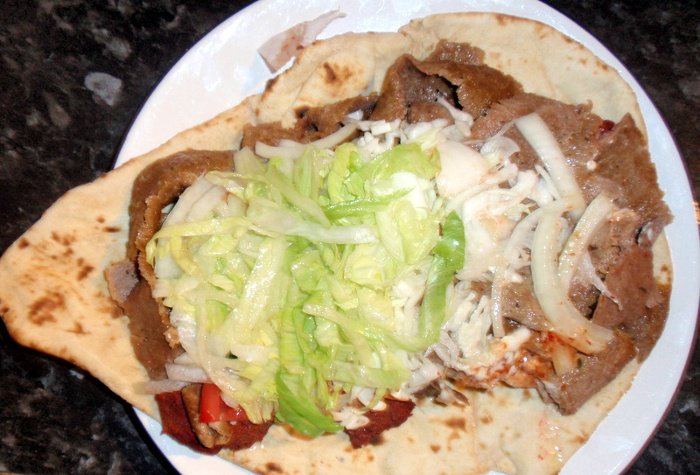 This might not be a traditional English delicacy, but it is certainly a dish that can be found in almost any town or city in the UK.
Doner kebabs, or gyros as they are often called in North America, are a Turkish dish by origin, but the British have taken to them quite fondly.  They have become one of the country's most popular late-night foods. If you don't believe us, just try wrenching one away from the hands of merry reveller on a Saturday evening.
The Full English Breakfast
Bacon, sausage, fried egg, mushrooms, beans, black pudding, tomato, HP sauce, hash brown and buttered toast. Need we say anymore?
Saveloy
These bright red, eight-inch long sausages can be found throughout the north of England, usually sitting beneath heat lamps alongside battered sausages (worth a try) and spam fritters (avoid at all costs). If you find yourself studying at the University of Nottingham, you shouldn't have to search too hard to find a saveloy or two.
Deep-Fried Mars Bar
It all started when a fish and chip shop in Stonehaven, Scotland, started battering and frying Mars Bars for local children. Over the past decade, this heart-stopping snack has become something of a Scottish staple, though most Scots will tell you it is purely for tourists.
(Indeed, the English joke that Scotland is the land of the deep fried meal – if it can be deep fried, it will be deep fried!) We suggest trying it at least once – maybe after a nice green salad for dinner.
Haggis, neeps and tatties
Unlike the deep-fried Mars bar, this is a centuries-old Scottish dish that just about everyone can enjoy, if they don't focus too heavily on its ingredients. Haggis is a savory pudding that contains sheep's heart, liver and lungs and is eaten alongside potatoes (tatties) and turnips (neeps), although vegetarian versions are widely available.
Every January 25th, this dish is served for the traditional Burns Supper on Burns' Night, a celebration of the life and poetry of Robert Burns. We encourage you to seek out a Burns night during your stay in the UK and enjoy a traditional evening of poetry, haggis, and whiskey.
Pukka Pie
Here's another small quirk of British culinary lingo: when you hear the word 'pie', think savory, not sweet. Founded in 1964, Pukka Pies is the UK's most popular producer of savory pies, and you can find them at fish & chip shops and soccer stadiums all over the country.
They have a puff pastry base and a range of satisfying fillings, the most popular being steak and kidney.
Bakewell Pudding
Tucked away in the Peak District in the county of Derbyshire lies a town called Bakewell. Within that town resides two shops, each claiming to be the original and best producer of Bakewell puddings.
All we know for sure is that the recipe, with its flaky pastry base and a layer of sieved jam, topped with an egg and almond paste filling, dates back to the early 19th century. Don't confuse this with the Bakewell tart. Any Englishman will tell you it is no true substitute for the classic Bakewell pudding.
Bangers and mash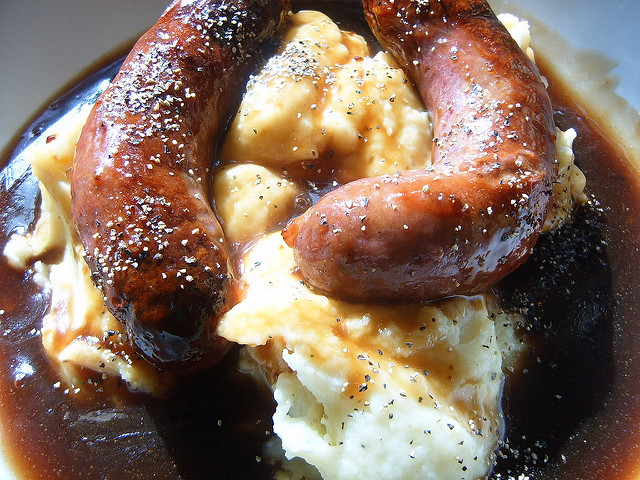 Few recipes can be as simple as bangers and mash: you boil and mash some potatoes, cook up a few sausages (or bangers), make some gravy, and then pile them high on a plate.
Perhaps it sounds somewhat unimaginative, but the possibilities are endless. Combine different  flavored mash with exotic sausage and any variety of gravy to create a completely different dish each and every time.
Cornish pasties
Originating in Cornwall in the southwest of England, this mouth-watering pastry package is crammed full of meat (usually beef), potatoes, onions and sometimes carrot.  Think of a casserole in the shape of a Hot Pocket, and you'll get the idea.
The rich, flaky pastry makes the pasty uniquely English and that much more delicious. A perfect portable meal for students on the run.
Real student food
Not just great delicacies, the best thing about this food (or 'grub' as they say in the UK)  is that they can all be enjoyed at inexpensive pubs, cafes, and food stands throughout the UK – and with a little practice, you can even make them in your own kitchen.
We guarantee you will love to come home from your studies singing the praises of British cuisine. The question is: which of these delicacies are you going to try first?
If you would like to find out more about studying in the UK, please fill out the "Contact an Advisor" form on the bottom or side of this page.
Or, to learn more about food in the UK, read these related blogs: