10 best TV networks for American students to watch in the UK
Jul 29, 2015 4:00:00 PM
Oh, how we love TV and the awesome shows we watch!
They make us laugh, cry, aspire to do new things, and give us comfort when we need it most. For many American students studying abroad, knowing which TV networks to watch helps them transition more easily into their new surroundings and helps make them more pop culturally savvy with their new British friends.
So if you're thinking of studying in the UK, here are 10 networks to switch on first…

Channel 4
Channel 4 is a UK broadcaster known for its cutting edge shows and revealing documentaries. They have tapped into some of America's most popular programs and bought the rights to NFL games, as well as the hit comedy The Big Bang Theory.
Freeview: 4
Sky: 104
Virgin Media: 104
FreeSat: 104
BT: 4
Comedy Central UK
The UK edition of Comedy Central has shipped over US comedy shows in the dozens to share laughs with the British audience. Here is where you will find the comfort of Friends and Two and a Half Men, as well as The Middle, Mike & Molly, and The Daily Show.
Freeview: N/A
Sky: 112
Virgin Media: 132
FreeSat: N/A
BT: 417
BBC 1
The most-watched television network in the UK, BBC 1 is home to the biggest shows and some of the best exports to America, including: Sherlock, Dr Who and Dancing with the Stars (known as Strictly Come Dancing in the UK). Look out for the UK version of The Voice, too.
Freeview: 1
Sky: 101
Virgin Media: 101
FreeSat: 101
BT: 1
MTV UK
It now produces more reality TV shows than music, but MTV UK still attracts a great audience, despite only being available on pay TV. You'll be able to find US favorites including Teen Mom, Cribs and Jersey Shore, as well as UK spin off shows, The Valleys and Ex on the Beach UK.
Freeview: N/A
Sky: 220
Virgin Media: 134
FreeSat: N/A
BT: 425
BBC iPlayer
The BBC has a dedicated on-demand streaming service that can be used anywhere in the UK. You can watch for free repeats of the latest drama and entertainment shows for free and listen to radio productions, too. UK site available here.
Sky Sports 1
Soccer fan? Sky Sports 1 is the best network to watch live English Premier League games over the weekend. They also feature live games and highlights packages from Scotland, Ireland and Spain, as well as featuring the big golf tournaments in the summer.  Many pubs will broadcast the football matches on Sky Sports, so there is no need for you to get your own subscription in your student accommodation.
Freeview: N/A
Sky: 401
Virgin Media: 501
FreeSat: N/A
BT: 501
Fox TV UK
For hilarious adult humor and the most-watched dramas in the US, head to Fox TV where you will find Family Guy, American Dad and The Cleveland Show alongside NCIS and The Walking Dead. A 100% American TV network at your fingertips in the UK!
Freeview: N/A
Sky: 124
Virgin Media: 157
FreeSat: N/A
BT: 422
ITV
The biggest rival to main UK channel BBC 1, ITV has recently spread its wings into dramas that have been successful in the US too. ITV is the birthplace of top shows Mr Selfridge, Broadchurch and Downton Abbey.
Freeview: 3
Sky: 103
Virgin Media: 103
FreeSat: 103
BT: 3
Netflix
Yes, streaming services are here in the UK too, with Netflix leading the way on US successes Breaking Bad, 30 Rock and The Office. For any new or existing US shows, expect a gap before they're broadcast in the UK – so don't let your friends tell you any spoilers! UK site available here.
Dave
Yes – there is a channel called 'Dave' in the UK! Described as the "home of witty banter" this is a great place to start to learn the nuances of the British sense of humor. Featuring repeats of shows including QI and Top Gear, as well as original Dave shows, such as Storage Hunters UK.
Freeview: 12
Sky: 111
Virgin Media: 128
FreeSat: N/A
BT: 12
Is the UK your new home?
The UK actually isn't too dissimilar from the US: we have many of the same television shows, speak the same language (kind of) and have plenty of food and culture in common.
If you're thinking about studying abroad, why not take a look at the UK as an option?
To find out more about the opportunities available to study in the UK, as well as how you could benefit more than studying at home, download our free eBook Studying in the UK: The Essential Facts for American Students.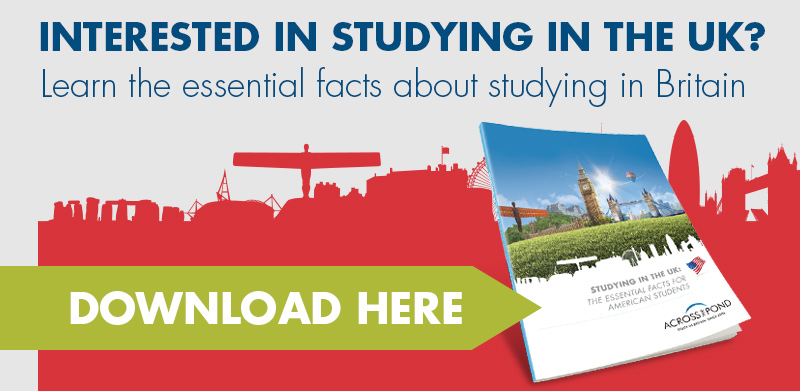 Photo Credits: Craig Hawkins, Geoffrey Chandler, TNS Sofres, Mario Segovia, Jason Rogers, Ronnie Macdonald, Shannon Ramos, Gill Griffin, Televisione Streaming, Martin Pettitt